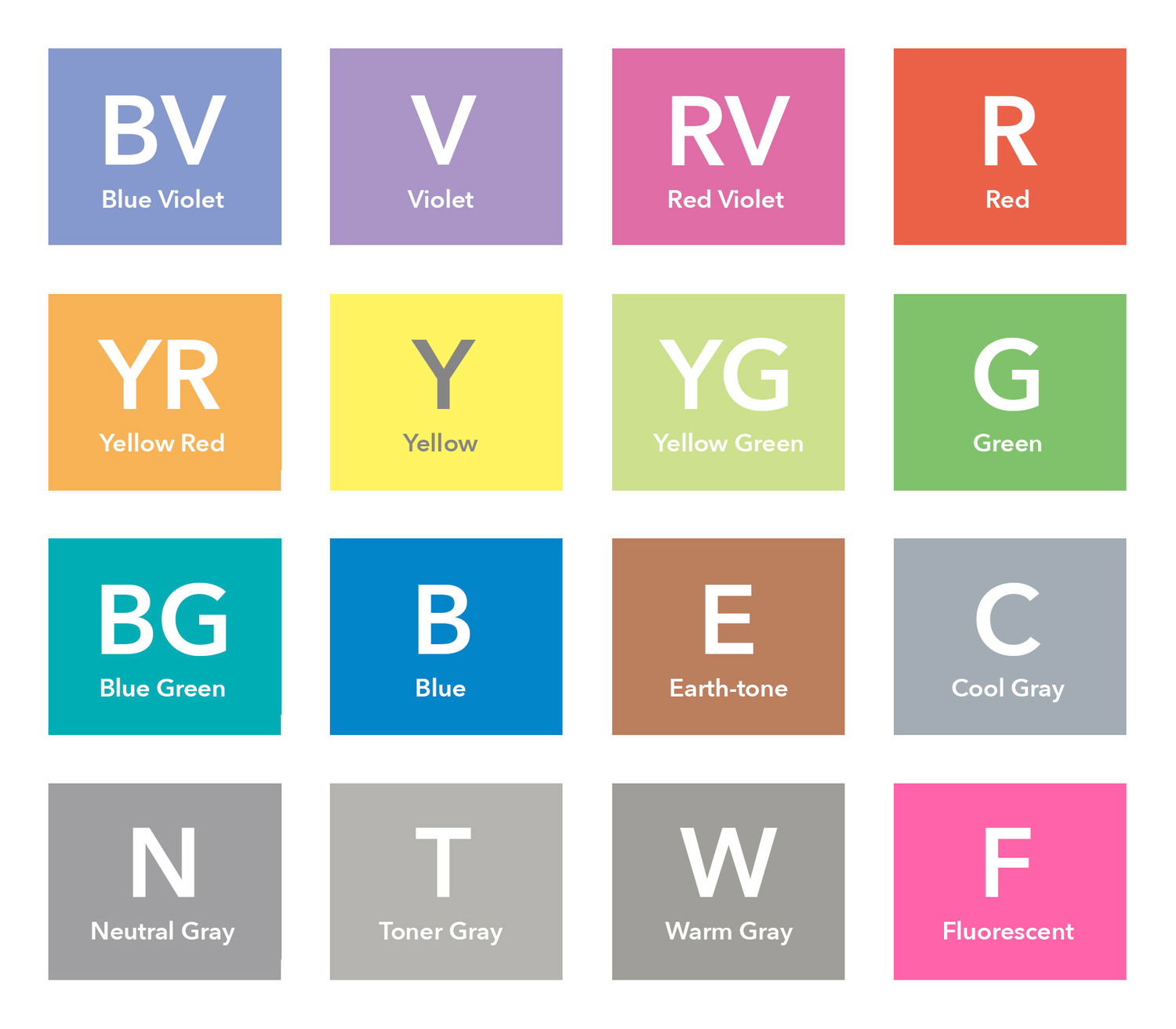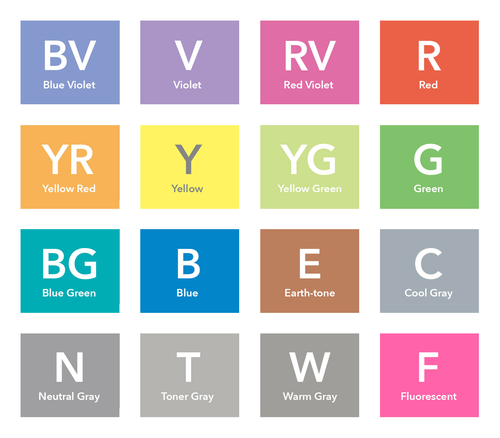 How are Copic Colors Organized and Named?
02-02-2021
AN INSIDE LOOK AT THE COPIC COLOR GROUPS AND NAMING CONVENTIONS
Pale Thistle. Aubergine. Strong Red. Cadmium Orange. Ultramarine.
All 358 Copic colors have unique names (and a story for each one, but we'll get into that later!), and a color numbering system that not only helps you easily organize your Copic collection, but figure out what color you're getting at a glance.
First, let's take a look at the complete Copic color chart--sorry, you'll have to zoom in--there's a whole bunch of colors all organized into groups. But what are those groups?
Here's a breakdown of all sixteen Copic color groups, which is pretty self-explanatory… but there's a lot more to it!
A color family is indicated by the first one or two letters, and this defines where a color is organized on the Copic color chart or wheel. However, within a color family, there lies color groups, which further organizes the colors at a more specific level. We'll explain Copic color groups next!
Since each of these color names start with "G", we know they belong to the green family. Since the first number in all these colors stars with "0", we know they belong to the same green group, where numbers range from 0-9, with 0 being the most bright or vibrant color, and 9 being the most dull or muted color.
Finally, you'll notice how the numbers at the end range from "000" all the way to "9." These numbers explain the last color indicator, which will tell you how light or dark the color is. If the color has 000, then it's the lightest or palest that color can be. If the color ends with 9, then it's the darkest. Let's take a look at RV52, Cotton Candy:
As you see here in the image, RV52 (we say "five two", not "fifty-two") has been broken down nto its specific parts: the color code (letters+numbers) is made of the color family (RV), the color group (5), and the color value (2), all capped by the color name (Cotton Candy). Now let's take a look at this graphic, and see where RV52 relates to other RV colors in the family and their values!
That's all for this week, but be sure to come by next time as we take our first look at blending your colors, one of the key features of COPIC markers!
Thanks for coming by, and we hope to see you next time!